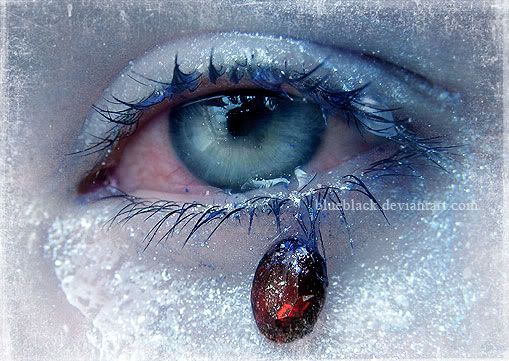 luxury of tears by blueblack
luxury of tears
I hate it when I cry.
I used to hate crying, when I was a child, because it was a weakness. On school bus rides home I was surrounded by boys, by bullies, who would say anything to make me cry; it usually worked.
I hated that they could make me cry, I hated crying in front of people, I hated how vulernable and weak I was. So I stopped crying in front of people... or at least I tried. I did my best to hold back, but I usually would get angry or frusterated instead, at some points I was just withdrawn and dismal, and then would cry later on, when I was by myself.
I still hate crying, I still hate crying in front of others, it still makes me feel vulnerable Although this acting tough, crying later approach to life has mostly dissipated. Now I hate crying because it seems that I only ever cry for myself. I cry when I feel wounded, when my pride is cut down or when I am humbled about something. (Sometimes cry when some movie twists my emotions) It's not that I don't think people should cry when they're hurt or frusterated, it can be a good release of stress. But why is it I never cry for anyone else? Why is it I don't cry for some else who is hurt, cut down, or humbled? Why is it I don't cry for those around me who are lost, or sick, hurt, or troubled?
I hate it when I cry.